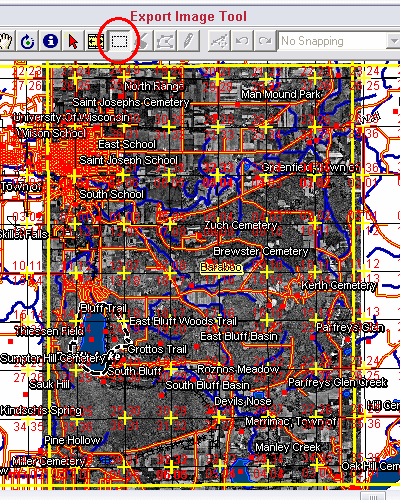 2. This image above shows a view in fGIS that is set up with the data used for the image overlay. The heavy yellow lines are from a USGS quadrangle index shapefile. It was used as a "cookie-cutter" guide with the fGIS "Export Image Tool" (selected in the toolbar and used at 2X resolution). Save the Exported Image as a BMP file to use as the 3D overlay file.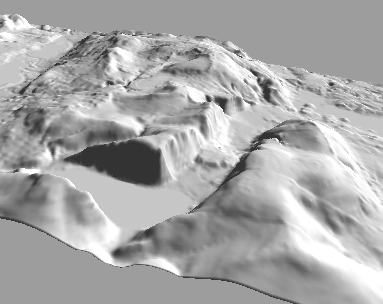 3. Start the 3D Utility (Utilities>3-D Viewing>Launch 3-D Viewer). Load a Terrain Model by using the DEM extension option. Browse to find the USGS DEM that corresponds to your view. When the landscape loads, you'll see a simple "hillshade" view like the one above.
Use your mouse to reposition the view. Shift + the left mouse button will raise or lower the landscape. Ctrl + the left mouse button will rotate the view on a center (y) axis. Alt + the left mouse button will rotate it on the x or z axis. With the left mouse button depressed, pull the mouse toward or away from you to zoom out or in.
4. Now apply the the Surface Overlay Image (saved from step 2) to make a 3D map. The ortho photo layer was turned off but the vector lines were kept for the following overlay.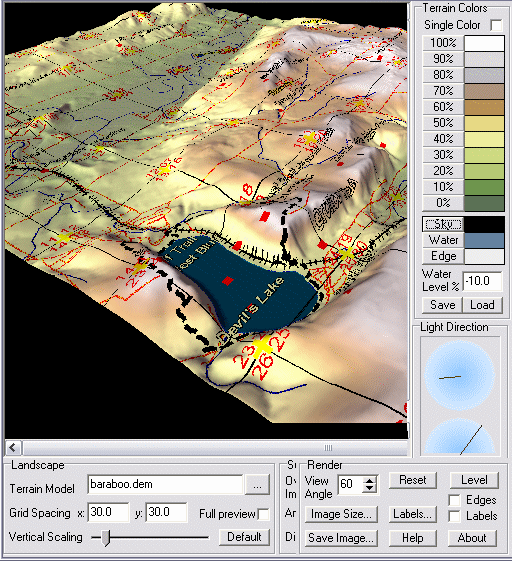 The 3D Viewer interface (partially pictured above) allows many Render adjustments for terrain color, lighting, image size, etc. Play with the controls to see what they do.
Note that the data used in this example can be downloaded in the "State_Park.zip" sample file (which includes the DEM).
A USA Quadrangle Index in geographic coordinates and a Wisconsin Quadrangle Index in WTM (both as fGIS project folders) can be downloaded from Digital Grove to help frame your image overlays. See the Digital Grove Links page for DEM sources.