Download the TatukGIS Free Viewer (8 MB)
Download the Viewer Documentation and Tutorial (7 MB PDF)
Download the State Park Example Project (3 MB ZIP)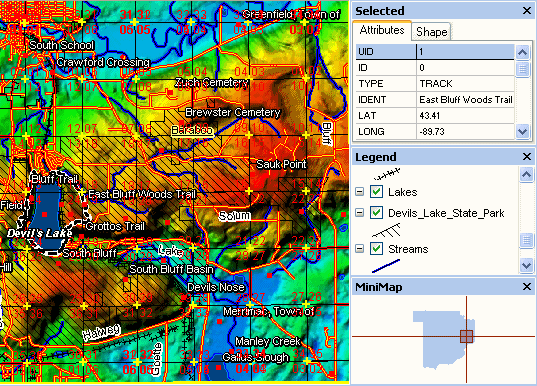 TatukGIS Viewer features, many of which are found in no other free viewer:
Export and save georeferenced image files of all visible layers, with a choice of full or visible extent. Choose the resolution of the export from best (matching the resolution of loaded images), document (300 dpi), web (96 dpi) or custom settings.
Save project files, including pointers to all loaded files. Layer property settings may also be saved for painting to other layers that you wish to have similar display characteristics.
Open/read data in the following file formats:

Raster image: TIFF/GeoTIFF, ECW, MrSID, JPEG2000, JPEG, IMG, BMP, BIL/SPOT, PNG, CADRG, TatukGIS PixelStore
Vector: SHP, E00, MIF/MID, TAB, DXF, DGN, TIGER, GML, VPF, GDF, DLG, SDTS, Geomedia® SQL Server & Access Warehouses, SQL layers with OPENGIS® features implementation
DTM formats: ASCII GRID, FLOAT GRID, BT, DTED, and ADF
Georeferenced Images: GeoTIFF, World File, and TAB based


All formats supported natively, with no importing of data to any internal format
Open data in many different formats in the same project, with no need for format conversion
Open most ESRI ArcView®, ArcExplorer®, or MapInfo Professional® projects as well as TatukGIS project files
Zoom in/out, pan
User defined scale for viewing/printing
Very fast with huge data sets (handles SHP files up to 2 gigabytes!)
R-tree spatial indexing
Layer control to add, remove, and reorder layers in a project
Alter the appearance (colors, styles, fills, outlines, symbols, transparency, etc.) of vector layers
Use GCM, WMF, and TrueType symbols to represent points, lines, polygon fills and perimeters
Manipulate pixel layers, including transparency, histogram, brightness, color enhancing, etc.
Render custom thematic maps based on vector attribute information, including colored-gradient value themes
Present data as bar and pie charts
Spatial queries (by point, line, circle, rectangle, polygon, and custom clipboard layer)
Attribute queries with SQL Builder
Measurement of distances, areas, and perimeters
Custom render label appearances and positions, multi-field labeling
URL Hotlink for automatic linking objects to any document referenced with a valid URL (web page, file, even mailto)
Map hints to automatically display information about any feature under the cursor
Data table to present attribute data in table form
Print and print preview, print to PDF file
Copy visible extent of all layers to Windows clipboard using the EMF meta format
Export any map view to image files: TIFF/GeoTIFF (w/ LZW), JPEG, PNG, PixelStore
Mosaic multiple already georeferenced images into a single exported image file
Very small footprint – program is only approx. 2.5 Mb (excluding the 5 Mb of tutorials/help files with images)
The Viewer includes the "Internet Server Wizard" to easily set up a simple ASP.NET project for web publishing with the TatukGIS Internet Server. Click here to review on-line a sample project that was prepared with the free Viewer and web published with the IS LITE.
Program user interface is customizable to the following languages: English, German, Spanish, Portuguese, French, Italian, Greek, Swedish, Polish, Czech, Russian, Ukrainian, and Japanese.
Besides just opening and viewing files, the Viewer supports an extensive list of features including layer control, thematic mapping, spatial and attribute querying, custom labeling, on map measurements, PDF export and much more. The user interface is available in 13 languages.
Because the Viewer is compiled from the TatukGIS Developer Kernel toolkit, it provides an easy way to evaluate the TatukGIS technology and support for various data formats and common GIS functionality. The free Viewer can be used to generate TatukGIS project files that are compatible with any TatukGIS product or custom application created from the TatukGIS DK toolkit. The Viewer can generate simple ASP.NET projects for web publishing with the TatukGIS Internet Server.

The TatukGIS Editor product extends the free Viewer by adding an extensive set of GIS editing features.
---
Screen Shots from Viewer Tutorials:
| | | |
| --- | --- | --- |
| Click to enlarge; The most important menu controls in the main Viewer window. Multiple vector layers with a raster image background. | Click to enlarge; More menu controls. Use of symbols for points. | Click to enlarge; Spatial selection and presentation of attribute information as a table. |
| Click to enlarge; A colored-gradient value theme presenting the range of values of a selected attribute. | Click to enlarge; Rendering of label styles and labels positions (to follow the line) and street colors and widths based on the street type attribute. | Click to enlarge; Polygon areas rendered to reflect value ranges of a selected attribute. |
| Click to enlarge; Polygon colors and pie charts rendered to reflect different attributes. | Click to enlarge; Search tool used to query for a value range of the selected attribute. | Click to enlarge; Operation to select all polygon areas that are intersected by the circle. |
| Click to enlarge; Use of the measurement tool to measure the area and perimeter of a land feature. | Click to enlarge; The color rendering of Digital Terrain Model data. | Click to enlarge; Variety of label types, area fills and image transparency. |

For those who wonder what "Tatuk" means (as in TatukGIS), it is a lake in British Columbia, Canada.